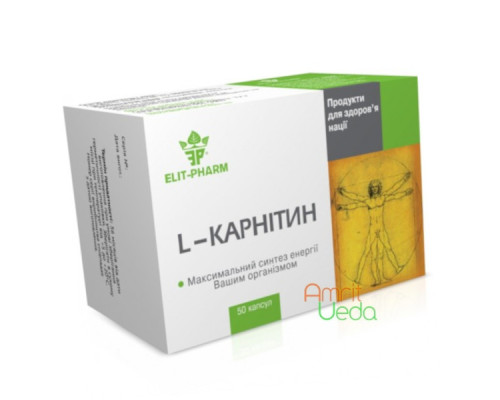 Sale - best before 01/2023.

L-Carnitine is an amino acid that is involved in the transport of fats to the mitochondria, which convert fats into energy. Also, L-Carnitine is necessary to maintain optimal physiological state and normal muscle functioning, takes part in providing energy to muscles, in particular the heart muscle.
Indications: overweight, myocarditis, heart attack, disorders of fat metabolism, high physical activity, fatty degeneration of the liver, detoxification of the body.
Content: L-carnitine 0.1 g, vitamin C (sodium ascorbate) - 0.03 g.
Dosage: 2 capsules 3 times daily with meals or as directed by your doctor. Athletes are advised to take 5-6 capsules once before training. Course of admission: 1 month, in the future, the course of admission should be agreed with the doctor.
Contraindications: it is not desirable for children under 12 years of age, during pregnancy and lactation.
Original name: L-Carnitine, 50 capsules Elite-Pharm.
In our store you can buy the original L-Carnitine, 50 capsules Elite-Farm at a bargain price!

This remedy is not a product of allopathic medicine. Mostly, it considered as food supplement that can be used only as a addition to the diet. All information on the treatment of diseases with this product is based on the knowledge of Ayurveda, phytotherapy and nutrition and is not confirmed by the Ukrainian Ministry of Health or other competent organizations and can only be used for reference.

Benefits / Indications
Detoxification of the body
Myocardial infarction, Myocarditis
Violation of fat metabolism
There are no reviews for this product.
No questions about this product.
Похожие товары