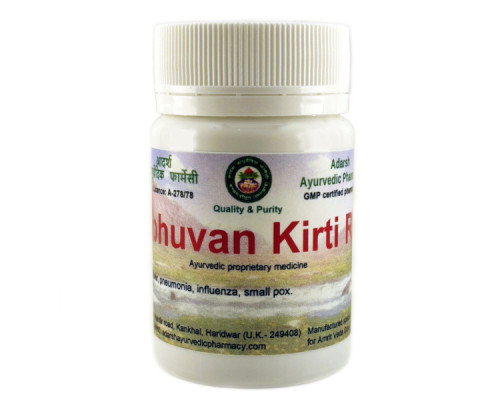 Tribhuvan Kirti Ras is used to treat respiratory diseases. This medicine is indicated as in the acute phase of acute respiratory infections, bronchitis and chronic cough or regular colds, reduces the intensity of symptoms of cold possesses antipyretic effect. Additionally, Tribhuvan Kirti Ras is assigned to and also for the treatment of influenza, tonsillitis, in the complex treatment of chickenpox and measles. Also, this product improves digestion, liver and spleen.
Indications, composition and dosage of the medicine Tribhuvan Kirti Ras from Adarsh Ayurvedic Pharmacy are located in the Properties tab.

Original name: Tribhuvan Kirti Ras 20 grams Adarsh Ayurvedic Pharmacy.
In our store You can buy authentic Tribhuvan Kirti Ras, 20 grams ~ 60 tablets Adarsh Ayurvedic Pharmacy at the best price!


This remedy is not a product of allopathic medicine. Mostly, it considered as food supplement that can be used only as a addition to the diet. All information on the treatment of diseases with this product is based on the knowledge of Ayurveda, phytotherapy and nutrition and is not confirmed by the Ukrainian Ministry of Health or other competent organizations and can only be used for reference.

Benefits / Indications
Weak digestion, dyspepsia
Influence on Doshas
Content
Ginger dry - Sunthi (Zingiber officinale)
екстракт 12.5%
Maricha - Kali mirch - Black pepper (Piper nigrum)
екстракт 12.5%
Pippali (Piper longum fruit)
екстракт 12.5%
Pippalmool (Piper longum root)
екстракт 12.5%
Shudha Hingul - purified Mercury sulfide
12.5%
Tankana bhasma (Calcined borax)
12.5%
Vatsnabh (Aconitum napellus)
12.5%
Bhavna (Processed with)
сік Туласі, Дхатури та Ніргунді
Dosage / Application
Or as prescribed by the doctor
Suitable for vegetarians / vegans
так
Contraindications / Precautions
Contraindicated
вагітність та період лактації
There are no reviews for this product.
No questions about this product.
Похожие товары