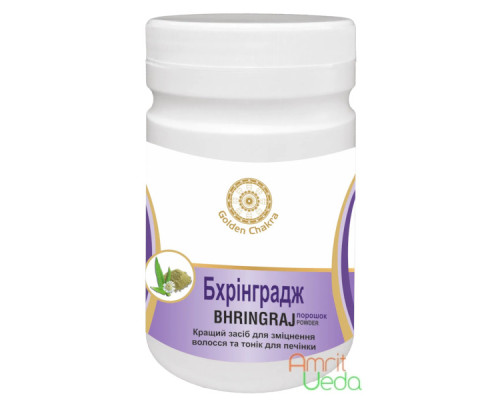 Bhringaraj is used primarily to improve the health of the hair - with poor growth and loss, premature graying. It is the main component of almost all medicines that improve hair growth. However, Bhringaraj has many other beneficial properties. This plant is rasayana - it rejuvenates the body, is a good hepatoprotector, indicated for hepatitis, improves the production and movement of bile. In addition, Bhringaraj is used for the treatment of skin diseases, diabetes, is a tonic for the nervous, respiratory and digestive systems, indicated for asthma, stomach ulcers, hyperacidity and constipation.
Indications, content and dosage of Bhringaraj churna from Golden Chakra are in the Characteristics tab.
Original name: Bhringaraj churna, 120 grams Golden Chakra.
In our store You can buy authentic Bhringaraj churna, 120 grams Golden Chakra at the best price.
This remedy is not a product of allopathic medicine. Mostly, it considered as food supplement that can be used only as a addition to the diet. All information on the treatment of diseases with this product is based on the knowledge of Ayurveda, phytotherapy and nutrition and is not confirmed by the Ukrainian Ministry of Health or other competent organizations and can only be used for reference.

Benefits / Indications
Disruption of the gallbladder
Weak digestion, dyspepsia
Content
Bhringaraj (Eclipta alba)
порошок 100%
Dosage / Application
1/2 - 1 teaspoon twice a day
з теплою водою
Or as prescribed by the doctor
Suitable for vegetarians / vegans
так
There are no reviews for this product.
No questions about this product.
Рекомендуем посмотреть
Похожие товары