Discount -10%
Sale
Best before 10/2023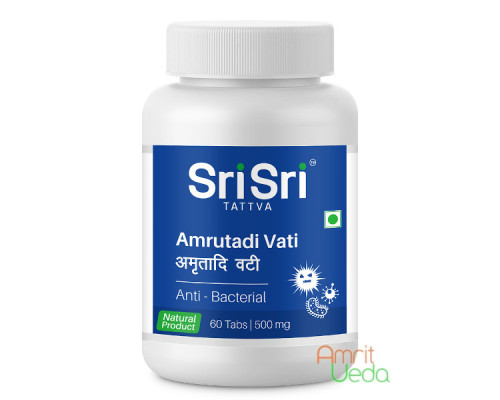 Amrutadi vati - effective integrated antibacterial and antiviral medicine. Part of this preparation consists of plants that support the immune system, possess antibacterial properties, gives the body strength. Also, Amrutadi vati effective for the treatment of various skin diseases.

Indications:
respiratory infections (including viral), bacterial infection, skin diseases.
Content:
neem 20%, Shudha Gandhaka 15 %, Amruth 10 %, Kutki 10 %, Karanja beeja 10%, Lasuna 10%, Amla 5%, Ashwagandha 5%, Chitraka 5%, Aaron beach Villa is 5%,
gomutra ghan 5%, permitted preservatives.

Dosage/Application:
1-2 tablets 2 times daily or as directed by your doctor.
Original name:
Amrutadi vati Sri Sri Tattva.
In our store You can buy authentic Amrutadi vati Sri Sri Tattva at the best price!
This remedy is not a product of allopathic medicine. Mostly, it considered as food supplement that can be used only as a addition to the diet. All information on the treatment of diseases with this product is based on the knowledge of Ayurveda, phytotherapy and nutrition and is not confirmed by the Ukrainian Ministry of Health or other competent organizations and can only be used for reference.

Benefits / Indications
Bacterial infections, natural antibiotic
Content
Amla - Amalaki (Emblica officinails fruit)
Ashvagandha (Withania sommnifera)
Chitraka (Plumbago zeylanica)
Giloy - Guduchi (Tinospora cordiofolia)
Ginger dry - Sunthi (Zingiber officinale)
Karanj beej (Pongamia pinnata)
Kutki (Picrorhiza kurroa)
Neem (Azadirachta indica)
Shudha Gandhak - S (purified and detoxified Sulfur)
Куркума - Харідра (Curcuma longa)
Dosage / Application
1-2 tablets 2 times a day
No questions about this product.
Рекомендуем посмотреть
Похожие товары