Discount -20%
Sale
Best before 06/2023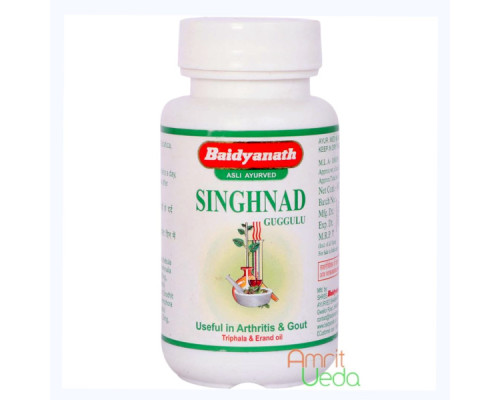 Singhnad Guggulu used in various diseases of the joints. This medication is used for gout, arthritis and other inflammatory joint diseases. Additionally, Singhnad Guggulu is used to treat skin diseases, eczema and as an adjunct in paralysis, caused by an imbalance of Vata dosha.
Singhnad Guggulu is a natural laxative and can be used for constipation.
Ingredients: Triphala Churna, Shuddh Gandhak, Shuddh Guggulu processed in castor oil.
Indications: rheumatoid arthritis, gout, paralysis, asthma, elephant disease, dropsy, hernia.
Dosage/Application: 2-3 tablets 2-3 times daily or as directed by a physician.
Original name: Singhnad Guggulu, 80 tablets Baidyanath.
In our store You can buy authentic Singhnad Guggulu, 80 tablets Baidyanath at the best price!
This remedy is not a product of allopathic medicine. Mostly, it considered as food supplement that can be used only as a addition to the diet. All information on the treatment of diseases with this product is based on the knowledge of Ayurveda, phytotherapy and nutrition and is not confirmed by the Ukrainian Ministry of Health or other competent organizations and can only be used for reference.

No questions about this product.
Рекомендуем посмотреть
Похожие товары