Correct description
Extract
Adarsh Ayurvedic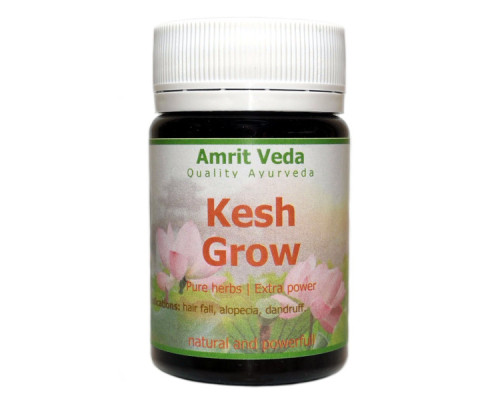 Kesh Grow is a complex medicine that is used to stimulate hair growth. It nourishes the hair follicles, making hair stronger and healthier, improves hair growth, restores pigmentation, and is effective for dandruff. Also Kesh Grow is an effective anti-aging medicine, a tonic for the nervous system and liver.
Indications, content and dosage of Kesh Grow, 60 tablets from Amrit Veda are in the Characteristics tab.
Original name: Kesh Grow, 60 tablets Amrit Veda.
In our store you can buy the original Cash Grow, 60 tablets Amrit Veda at a bargain price!

This remedy is not a product of allopathic medicine. Mostly, it considered as food supplement that can be used only as a addition to the diet. All information on the treatment of diseases with this product is based on the knowledge of Ayurveda, phytotherapy and nutrition and is not confirmed by the Ukrainian Ministry of Health or other competent organizations and can only be used for reference.

Benefits / Indications
Content
Amla - Amalaki (Emblica officinails fruit)
екстракт 10 мг
Bhringaraj (Eclipta alba)
екстракт 340 мг
Brahmi (Bacopa monnieri)
екстракт 30 мг
Gajara (Daucus carota)
екстракт 30 мг
Haritaki-Harad (Terminalia chebula)
екстракт 10 мг
Onion - Pyaz (Allium cepa)
екстракт 30 мг
Vibhitaki - Baheda (Terminalia bellcerica)
екстракт 10 мг
Excipients
Acacia arabica 8.5 mg, Talcum 2.5 mg
Dosage / Application
Or as prescribed by the doctor
Suitable for vegetarians / vegans
так
There are no reviews for this product.
No questions about this product.
Рекомендуем посмотреть
Похожие товары