Discount -25%
Correct description
Sale
Best before 08/2023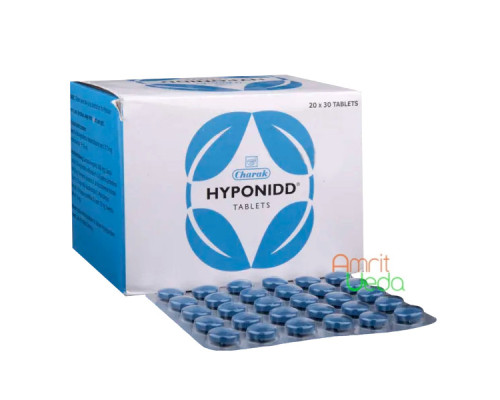 Hyponidd used for the treatment of diabetes and polycystic ovaries syndrome, caused by insulin resistance. This medicine improves ovulatory function, normalizes the cycle and eliminates some metabolic disorders-caused by polycystic ovaries syndrome (this disease is often caused by the resistance of the body to insulin).
Part of Hiponia includes plants known for their antidiabetic properties, in that the medicine is effective for the treatment of diabetes and reducing blood sugar. Additionally, thanks to zastavka Amalaki and Guduchi, Hypoid has antioxidant and immunomodulatory properties.

Indication: polycystic ovaries and associated disorders in the reproductive system, diabetes.

Content:
Karela 12 mg, Shuddha Shilajeet, each Yashad Bhasma 37.5 mg, extracts delivered from: 15 mg Chirayata, Neem leaf, Vijaysar bark, Guduchi each 75 mg, Gurmar leaf , Maja-Makka Booti (Chota Chirayata) each 112.5 mg, Amla, Jamun each 150 mg, 225 mg Tarwar, Haldi 300 mg, permitted preservatives and colours.
Dosage/Application:
2 tablets 2 times daily before meals or as directed by your doctor.
Original name:
Hyponidd, 2x30 tablets Charak.
In our store You can buy authentic Hyponidd, 2x30 tablets Charak at the best price!
This remedy is not a product of allopathic medicine. Mostly, it considered as food supplement that can be used only as a addition to the diet. All information on the treatment of diseases with this product is based on the knowledge of Ayurveda, phytotherapy and nutrition and is not confirmed by the Ukrainian Ministry of Health or other competent organizations and can only be used for reference.

Freqently asked questions
Is this medicine safe?
Yes, Hyponidd Charak is completely safe to take in the doses indicated in the description, except for the cases indicated in the "Contraindications" section.
Will this medicine help me?
We have indicated all the cases where Hyponidd Charak is used, starting with those where it is most effective. Please compare the description and indications with your symptoms or diagnosis.
What are the side effects of this medicines?
Hyponidd Charak has no side effects when it is used according to the information specified in the "Dosage" section. However, individual intolerance of the medicine or its components is possible.
Can this medicine be taken with pharmaceutical drugs?
Yes, Hyponidd Charak combines well with pharmaceuticals. However, if the action of these drugs is similar to the action of Hyponidd, better to reduce the dosage of this medicine.
There are no reviews for this product.
No questions about this product.
Рекомендуем посмотреть